Quoique les centres commerciaux tiennent à nous convaincre que la Saint-Valentin est exclusivement à propos de l'amour romantique et, bien entendu, de dépenser beaucoup d'argent pour des fleurs et des diamants, je crois personnellement que c'est plutôt à propos de dire à tous ceux qu'on aime qu'on les aime!
While the shopping centres may want us to believe that Valentine's Day is all about romantic love and spending lots of money on flowers or diamonds, I think it's more about remembering to tell your loved ones (all of them) that you love them!
Mais si vous voulez leur démontrer un petit peu de cet amour en leur confectionnant quelque chose, pourquoi pas? J'ai trouvé quelques idées sur l'internet qui pourraient inspirer votre créativité.
But if you want to demonstrate a little of that love by making them something, why not? I've found a few things around the internet that might inspire your creativity.
Papercrafts:
Tchoubi
(Nathalie Gregoire)
Billets de Saint-Valentin (téléchargez en quelques-un pour vous-même!)
Valentine tickets (visit her site to download some for yourself!)
Flower Patch Farmgirl
Couronne de coeurs /
Heart Wreath
The Red Thread
Cadre de coeurs
vintage
/
Vintage Heart Box
Cartes /

Cards
:
Julie Masse
Juliana Michaels for Jillibean Soup
Lily Bee Designs
D'autres idées amusantes /

Other fun ideas
:
Design Sponge
Ampoule décorative de Saint-Valentin /
Valentine Lightbulb
Stitch Craft Creations
Supports de mouchoirs de papier de la Saint-Valentin /
Valentine Tissue holders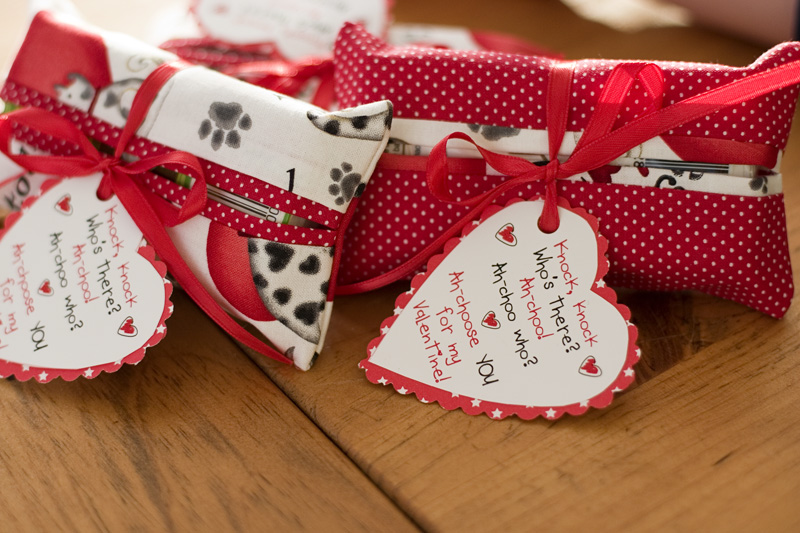 Alicia Kachmar of Create!
Biscuits de fortune décoratifs en tricot /
Crochet Fortune Cookies
Textiles /

Textiles
Melanie Cantrell
Coeurs en feutre décoratifs /
Embellished felt hearts
Happy Together
Coussinets pour épingles en forme de coeur /
Heart Pin Cushions
Dana Made It
Cartes de la Saint-Valentin en tissu /
Fabric Valentine cards
Nourriture /

Food
:
Craftastica
Maison en pain d'épice de la Saint-Valentin. Miam! /
Valentine Gingerbread House. Yummy!
Bakerella
Petits gâteaux en forme de roses /
Roses Cupcakes
Bakerella (encore!!)
Petits gâteaux en forme de suçons /
Cupcake pops

Bake @ 350
Biscuits /
Cookies
Toutes ces images m'ont mis l'eau à la bouche pour des sucreries et m'ont inspirées à créer quelque chose de rose et rouge! J'espère qu'elles vous ont inspirées aussi. Joyeuse Saint-Valentin!
All these images have left me hungry for sweet food, and inspired to create something with pink and red! I hope they have inspired you as well. Happy Valentines Day!