par Rachel
Qui n'a jamais voulu d'une ardoise dans sa cuisine pour y écrire les aliments qui manquent dans notre garde-manger? Hé bien, voici une façon simple de créer la vôtre, aux couleurs de votre décoration en plus. Je vous montre ici comment obtenir un cadre à l'effet vieillot.
Who doesn't want a blackboard in their kitchen to write down what's missing in your pantry? Well, here is a simple way to create your own, in your home's color scheme. I will show you how to make a vintage looking frame.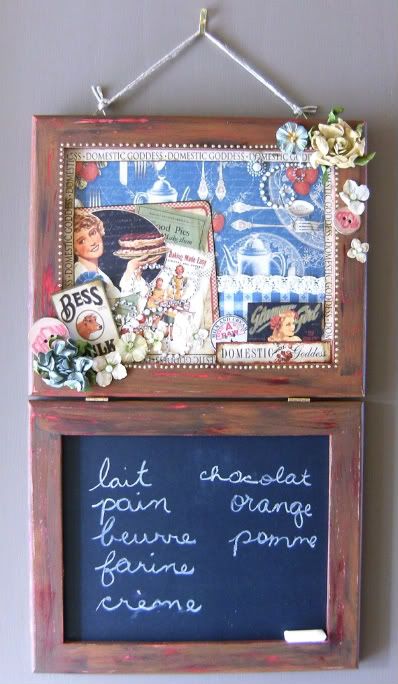 Vous avez besoin de :
You will need :
2 cadres en bois à décorer vous-même (8 x 10 pouces)
2 charnières mesurant ¾ pouces
2 attaches pour suspendre votre ardoise
Peinture (3 couleurs) et encre distress (ou autre)
Feuille de tableau noir amovible et réutilisable
Morceau de papier sablé
Cordelette, ficelle, ruban…
10 vis
Quelques éléments de décoration

2 bare wood frames (8 x 10 inches)

2 ¾ inches hinges

2 fasteners to hang your blackboard

Paint (3 colours) and distress ink (or other)

Removable and reusable blackboard sheet

Sandpaper

Cord, thread, ribbon…

10 screws

Some decorative elements
Étape 1 / Step 1
Enlevez les pieds des deux cadres et récupérez les deux petites attaches. Elles vous serviront à suspendre votre ardoise. Une fois terminé, appliquez votre première couche de peinture. Dans mon cas, j'ai choisi le rouge.
Remove the feet of both frames and save the two small fasteners. You will need them to hang your blackboard. Once done, apply your first coat of paint. In this case, I picked red.
Étape 2 / Step 2
Une fois la peinture sèche (10 minutes environ), appliquez votre deuxième couche de peinture... brun cette fois avec quelques touches de noir. Allez-y délicatement! Il ne faut pas mélanger les deux couleurs ensemble, mais seulement quelques coups de pinceau.
Once dry (approx. 10 minutes), apply your second coat of paint… brown with touches of black. Don't mix the two colours together, just lightly apply with a few brush strokes.

Étape 3 / Step 3
Une fois que votre deuxième couche de peinture est sèche (10 à 15 minutes environ), sablez légèrement votre cadre pour lui donner un effet usé. N'hésitez pas à frotter, car les inégalités de l'usure accentuent l'effet de vieillissement. L'important est de voir la couleur rouge (première couche de peinture). Ajoutez un peu d'encre pour vieillir un peu plus. Dans mon cas, j'ai utilisé le Van Dyke Brown de Vick Bantock.
Once the paint is dry (approx. 10 to 15 minutes), lightly sand your frame to give it a worn effect. Feel free to rub, uneven wear accentuates the distress effect. The important thing is to see the red colour (first coat of paint). Add some ink to age the frame (I used Vick Bantock - Van Dyke Brown).
Étape 4 / Step 4
Pour l'ardoise, j'ai utilisé une feuille de tableau noir amovible et réutilisable de Wallies disponible chez
Omer DeSerres
. Un paquet de quatre feuilles de 8 x 10 pouces se vend 19,95$ plus taxes. Pour obtenir un aplati parfait, appliquez votre feuille sur de la vitre ou un chipboard en vous servant d'une règle pour enlever les bulles d'air.
For the blackboard, I used a piece of removable and reusable chalkboard sheet by Wallies available at
Omer DeSerres
. A package of four 8 x 10 inches sheets sells for $ 19.95 plus tax. To get a perfectly flat sheet, apply it on glass or on a chipboard, and use a ruler to remove air bubbles.
Étape 5 / Step 5

Pour votre page, collez-la sur l'endos du cadre puisqu'on ne replacera pas la vitre. Votre page ne gondolera pas ou ne glissera pas du cadre. Décorez votre cadre.
Glue your layout to the back of the other frame since we won't be putting the glass back. Your page won't curl or slip from the frame. Add your embelishments.
Étape 6 / Step 6
Armez-vous de patience, car c'est le temps de placer les charnières. Notez que celles illustrées sur la première photo sont trop grosses. Il en faut de plus petites (environ ¾ pouces). Il est très difficile de visser dans un cadre en bois s'il n'y a pas déjà des trous. Je vous conseille donc de percer préalablement un trou. Cela vous facilitera grandement le travail.
Arm yourself with patience because it's time to install the hinges. Note that the ones shown on the first picture are too big. You should use smaller hinges (3/4 inches). It is very difficult to screw in a wooden frame if there are no holes, so I suggest you drill them first. This will greatly facilitate your work.

Étape 7 / Step 7
Les petites attaches récupérées sur le cadre serviront à suspendre votre ardoise. Encore une fois, percez de petits trous avant de visser. Attachez une cordelette aux deux attaches. Suspendez votre ardoise au mur.
The small fasteners you previously saved will be used to hang your blackboard. Once again, drill small holes beforehand. Attach a small cord to the two fasteners. Hang your blackboard on the wall.

Matériel / Supplies
Papiers/Papers
Graphic 45 - Domestic Goddess
Embellissements/Embellishments
Fleurs/Flowers - Prima
Pierres et perles/Gems & Pearls - Prima
, K&Compagny
Dentelle/Lace - Prima
Boutons/Buttons - Jenni Bowlin
Autres / Others
Encre/Ink - Vick Bantock
Peinture/Paint - Ranger (Claudine Helmut, Dabber), Making Memories
Acrylique Dimensional Pearls/Acrylic Dimensional Pearls - Ranger
Cadre/Frame - Sabre
Feuille de tableau noir/Chalkboard Sheet - Peel & Stick Wallies
Cordelette/Thread - Inconnu/Unknown